Here is a sample of the miracles we have seen God do through our ministry.
If you would like to watch thousands of testimonies and witness people being healed after prayer in Jesus' name, please click on this link to our YouTube Channel.
PARKINSON'S DISEASE HEALED! BALANCE RESTORED AND TREMBLING DISAPPEARS! NO MORE WALKING STICK!
This man was diagnosed with Parkinson's Disease several years ago and shuffled slowly to the front of the church, bent over on a walking stick as he'd lost his balance and ability to walk without consciously thinking about the placement of each footstep.   The Holy Spirit touched him powerfully and he was surprised to find after prayer in Jesus' name that he could walk without his stick and he was noticeably straighter, stronger  and faster.  As he walked more, he realised that his balance was restored.  He threw his stick away and marched around the church confidently, a very different man who came into the meeting.   His hands also shook uncontrollably when he came in, but that too disappeared and he later discovered that he could hold a coffee cup for the first time in 3 years – he hadn't been able to do that for so long because of the trembling!  He was healed in Hobart in February 2014.
---
CLUB FEET MIRACULOUSLY HEALED!
An outstanding testimony of healing from clubbed feet was shared in May 2014 by mother Liz and her 13 year old son, Matt. When Matt was born, he had severe club feet with both feet being twisted out from the ankle. Doctors said he would neve…r walk, let alone run or play sport. An operation was planned when Matt was a few months old in the hope of helping to straighten his legs and feet as much as possible.   At ten weeks old when he was in a plaster cast from his waist down to keep his legs straight in preparation for the operation, John ministered in Liz's church north of Brisbane. He prayed for baby Matt twice and on the second prayer, Liz said she just knew Matt was healed. When doctors took the plaster cast off a few weeks later, they were dumbfounded to find that Matt's feet and legs were totally normal – no longer twisted or clubbed and no longer needing an operation! Since then, Matt has been a completely normal child and never had any problems with his feet or legs.   We have seen God heal clubbed feet several times before – both in the womb and after birth. All things are possible with God, so never take a doctor's prognosis as the final word, if you're a believer!
---
CEREBRAL PALSY HEALED & BONES STRAIGHTEN!
Hamish was born with cerebral palsy.  One side of his body was tight and twisted and he had never been able to run in his life. John prayed for him at a meeting in Scotland on 2000 and his bones and joints straightened and cracked in front of an amazed congregation.  John didn't know what Hamish's condition was before he prayed for him and had assumed he'd been in a car accident. When John asked him, 'How long has it been since you've run?' Hamish replied, 'I've never run, I was born this way.'  At the age of 46, Hamish took off, running around the hall several times – the photo captures that moment.  When interviewed later by the press Hamish said, 'When he told me to run around the church, I felt like I was flying.'
---
CRIPPLED IN A WHEELCHAIR FOR 9 YEARS AND TOLD SHE'D NEVER WALK AGAIN – HEALED IN JESUS' NAME!
My Story begins nine and a half years ago. I was badly assaulted and was left with back and leg injuries. Shortly after the assault I took T.B. in my pelvis and this did a lot of damage to my organs which cause severe pain. Over the first four to five years of my illness I suffered with severe depression; I had no self-esteem or confidence and often I felt suicidal. Due to my illness I was not able to get out of the house.   During this time I had to spend a lot of time in bed as the pain I was in was so severe. On May 23rd, 1996, I had been lying in bed for three weeks and was at my lowest ebb. I could not see any way out of my situation. I lay in my bed and I cried out to the Lord. I asked him into my heart and my life forever. I confessed all my sins to him and asked for forgiveness, I also asked him for help with my situation and for someone to come to my door, as I was so lonely. I had the most amazing peace and calmness come over me it was beautiful and I knew if I put my trust and faith in the LORD that I would be safe in his arms forever .   Two days later two men came to my door as I was still in bed. My youngest son answered the door and said I was too ill to come to the door and they said they would send someone else over to visit. Two days later the deaconess of the local church called to see me and this was my first answer to prayer and was to change my life for the better. God's love truly sinned out of this woman and friend. Within a few weeks things really began to change and I got a home help and a wheelchair on the same day.   My health deteriorated very quickly and I had to have carers come to dress and see to my personal care. I became very ill and my whole body began to shut down. Nothing was working and I thought I was dying. For five months things were really bad. The doctors were sending me for tests and told me I was so severely disabled there was nothing they could do for me.   I was invited by a friend to go to a meeting in Scotland where a visiting ministry, John Mellor, was preaching. I was very sceptical and had to be carried up the steps to the meeting. John prayed for me at each meeting but nothing really happened except I got very sick. I came home feeling very disappointed that God had not touched me. After a week and a half of being at home I began to notice a difference in my mobility and decided to go back to Scotland for the Friday evening. I HAD TO BE THERE!   John was saying "There's going to be a miracle tonight", and I was looking around to see how it was. Then he said "It's for you!" as he took my hands and I started walking up the floor. I was laughing and crying all at the same time. My crooked and pain filled body straightened and I felt wonderful! I could not believe that GOD LOVES ME ENOUGH TO GIVE ME BACK MY LEGS TO WALK AGAIN. Within half an hour of being home after the meeting my kidneys started to function again. Every day, I did something new.   My doctor cannot take it in, he was totally shocked when he saw me walk into his room but overjoyed.   We have an amazing and wonderful Lord who we can trust with our life. He can do these things in YOUR life as well and I invite you if you do not know Jesus as your LORD and SAVIOUR to invite him into your heart. It's as easy as ABC. Admit you're a sinner, Believe that Christ is the risen Lord and the Son of God and Commit your life to serve Him.   (The middle photo of Margaret was taken on the moment she was healed and pulled from her wheelchair in 2000.  The last photo is Margaret with Julie in Belfast in 2012).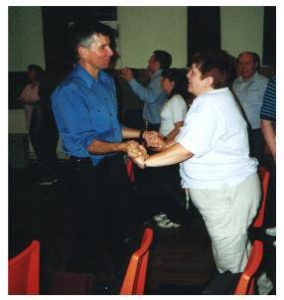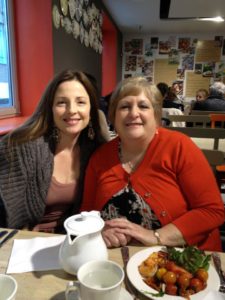 ---
23 YEARS OF MULTIPLE SCLEROSIS HEALED 13 YEARS AGO AND LADY NOW RUNS MARATHONS!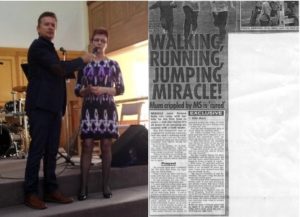 Helene Kelly testified in August 2013 in Edinburgh how she was healed of 23 years of crippling MS 13 years ago when John ministered in Dunfermline, Scotland. She has been in great health ever since and has even run several marathons. Helene's miracle was spectacular and featured in national Scottish newspapers, which you will find on our Media page.
---
SEVERE OSTEOARTHRITIS HEALED! HANDS CAN CLOSE AGAIN AND BODY IS PAIN FREE!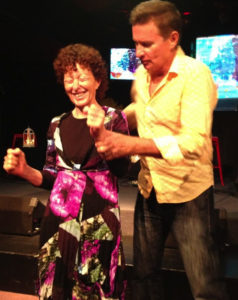 This lady suffered osteoarthritis throughout her body & joints for many years and bursitis in her right shoulder. The pain and inflammation were so severe and debilitating that each week she injected herself with strong chemo drugs just to get more movement in her joints, though she still lived with excruciating pain. After prayer in Jesus' name ALL pain left her, she could clench her fists tightly and her right arm shot straight up, free from restriction, and all pain left her hips, knees and spine.  She ran along the front of the church overjoyed and praising Jesus!
---
GLAUCOMA HEALED IN JESUS' NAME!
This lady developed glaucoma 8 years ago – many members of her family have gone blind from the condition, but in Jesus' name, all blurriness left and full peripheral vision was restored after having lost 30% in one eye and 20% in the other! She is one happy lady.
---
CRIPPLING OSTEOARTHRITIS HEALED! HIP REPLACEMENT OPERATION CANCELLED! WALKING STICK NO LONGER NEEDED!
This lady walked slowly on a walking stick into the church and had to use the elevator to get to the second floor of the church where the healing meeting was held. She suffered osteoarthritis pain throughout her body, but it was particularly severe in her hips and she was scheduled for a hip replacement operation.  She said that she felt the pain ease as she sat in the meeting, and when John laid hands on her, her body jerked and all pain disappeared instantly and she ran along the front of the prayer queue in shock! She couldn't believe such a miracle had happened to her.  She had watched several people with walking sticks hobble to the front earlier in the meeting and be healed and run around the church, but she thought to herself that she wouldn't be so blessed, but Jesus set her free!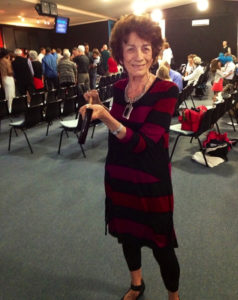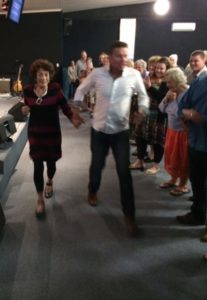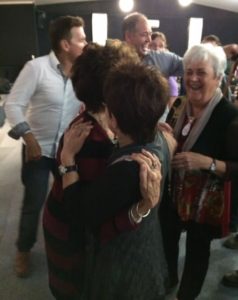 ---
DIABETIC RETINOPATHY BLINDNESS HEALED!
Catie was healed of diabetic retinopathy blindness at our meetings in Nowra, NSW, in 2013. She had been legally blind for 2 and a half years and she used a cane to get around.  Now her eye doctor has told her he doesn't need to see her anymore for her eye injections which tried to halt the condition.  Catie could only see blurriness, but after prayer in Jesus' name, detail and clear vision were restored! She is a well known singing teacher in her area.  Here's the testimony she sent to us several months after prayer:  'John Mellor prayed for me last year… And now I am SEEING the result. My eye surgeon has turned me away 3 times over the last 3 months for routine steroid injections into my right eye. He is happy, but perplexed. Almighty God is bigger than medical science. Yep. He made me from nothing, so I'm giving Him everything.  Simple. He has healed me!!!'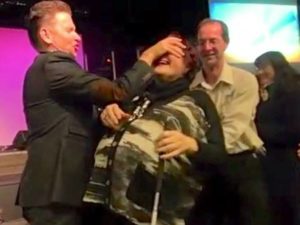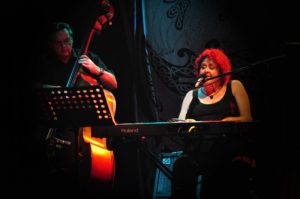 ---
ARTHRITIC KNEES, WALKING STICK, PAIN IN HIP, ASTHMA, DIABETES & 30 KILOS GONE AFTER PRAYER!
A photo of Robert on the left just after receiving his miracle in July 2011 and 6 months later on the right testifying to being healed of 5 conditions.   Robert received 5 miracles from Jesus at our meetings at Nowra City Church in July 2011. He had 10/10 pain in his knees and pain in his spine and hip since 1981. He used a walking stick to get around, but after prayer, he was instantly pain free and could walk with ease without his stick. Now, months after the meeting, x-rays have confirmed that new cartilage has formed in his knees. He has also been healed of symptoms of asthma, diabetes and he has lost 32 kilograms! Awesome Jesus!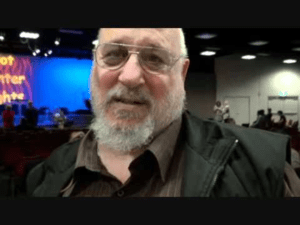 ---
POLYCYSTIC OVARIAN SYNDROME HEALED & 3 MIRACLE BABIES BORN!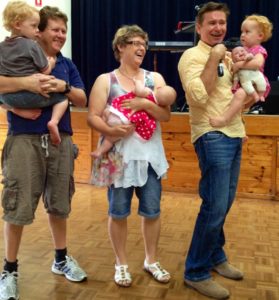 This lady suffered from polycystic ovarian syndrome and was told she could never have children. Her first marriage ended because of this, but Jesus specialises in doing the impossible and here she is happily remarried with three beautiful miracle babies!
She fell pregnant a short time after John prayed for her several years ago.
We see Jesus give miracle babies to so many couples who are told they will never conceive naturally, so if you're in that position be encouraged that God delights in answering this prayer and it's one of the most common prayer requests we receive and one of the most common we see answered within months.
Put your trust in Jesus & pursue Him with prayer for your miracle baby!
---
GIRL BLIND IN ONE EYE SINCE SHE WAS A BABY, HEALED BY JESUS IN HER SEAT!
An awesome miracle just took place in Auckland in February 2014. This 13 year old girl was blind in one eye for 11 years due to an eye disease. Her eye was also painful for all of those years. 13 operations on the eye could not correct the vision, but when John prayed a prayer for healing over the congregation, Jesus touched her in her seat and the pain and blindness left!
---
TERMINAL LIVER CANCER HEALED!
Doctors told Jeffrey in 2009 that he was going to die from terminal liver cancer within a few months, but after prayer two aggressive tumours disappeared and he was healed and is still going strong.
---
TERMINAL BRAIN CANCER HEALED & NERVE DAMAGE FROM OPERATION HEALED!
An outstanding testimony of healing from terminal brain cancer was sent to us in February 2013 by Louise who had come to several of our meetings: 'Hello there, I have to say that I am blessed to have met you and your wife, in Australia, on three occasions, during your healing seminars and healing meetings, on the Sunshine Coast and Brisbane area.
I was diagnosed in 2011 with a malignant and advanced brain cancer and apart from the pain that followed my surgery, I was given between nine months and 2 years to live. Needless to say, God worked His miracles through you, and I have been able to move back to Europe with my young son, able to join my eldest, who was already living here.
You and your books started in me a walk in faith that I could never have imagined and I will be for ever grateful to you and to our God. My path has just started! I thank you so dearly, for ever in debt, Louisa Gemma Ciapponi.'
When Louise first came to our meetings, she couldn't open or see out of one eye, had lost her driving licence and she had constant pain in her head from the pressure of the tumours, but also from damage caused when she was operated on and a nerve was cut.  All pain left after prayer and her eye opened up.  A few weeks later she had her licence back and now is cancer free.  Thank you Jesus!!
---
BLIND, CRIPPLED MAN IN WHEELCHAIR GIVEN 18 MONTHS TO LIVE, HEALED!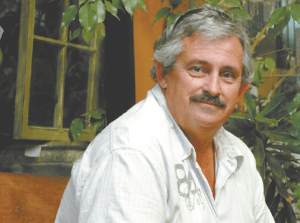 Doctors had given Richard 18 months to live. He had been in a wheelchair for 7 years, was legally blind and suffered from Sarcoidosis which affected his whole body and caused him to bleed from his eyes, nose and ears. He was paralysed down one side of his body from a stroke, was grossly overweight and had diabetes.  He had to wear a support brace on one leg as a result of an accident.   Richard's initial miracle happened in 2006 at a John Mellor healing meeting on the Sunshine Coast, where in front of almost 1000 witnesses, he walked and saw again. Broadcast on TV's "Today Tonight", Richard's doctor confessed on national television that there was no medical explanation for this dramatic healing.   As Richard recalls, "A friend urged me to come along to see John Mellor, after I had initially dismissed the idea as useless. I thought faith healers were all charlatans. That night what happened blew me away. John saw me slumped in the chair, massive and obese. I was a mess, I couldn't see, couldn't walk, I was bleeding everywhere. When John prayed, I felt a weird tingling sensation go through my body, and I automatically stood up and started walking towards the stairs. John said "What's going on here?" I said "You tell me, I've never had this happen before." I hadn't walked for 10 years.   "The disease had destroyed my eyesight leaving me with only blurred vision. Special glasses were needed, not just to protect my eyes from light but to protect people, including my own daughter, from freaking out. John asked if I'd like to see again. He placed his hands over my bloodied eyes and prayed. When he took his hands away, I realised I could clearly see the clock on the back wall. When I left the meeting that evening, I could see and I could walk. I was ecstatic, and I cried or the first time I could remember."     My little daughter said, "I've got my daddy back." The miracle was completed when Richard's painful knee was instantly healed when he again met up with John in February 2009. Richard has also lost 80 kilograms.  He now runs every morning and enjoys hang-gliding and bushwalking.
---
DELIVERED FROM 40 YEARS OF DEPRESSION, ANXIETY & ALCOHOLISM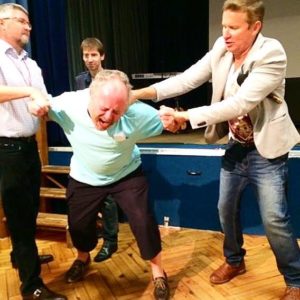 Sean battled depression, anxiety and alcohol addiction for 40 years. He had sought counselling and prayer many times without any change, but in September he came to our meeting in Worthing, UK, and was delivered from a demonic stronghold in Jesus' name. He said he felt something heavy leave him and he felt free and different. You can watch the deliverance through our YouTube link https://m.youtube.com/watch?v=dVjVZihmedM
---
9 MONTHS OF DEBILITATING CHRONIC FATIGUE SYNDROME HEALED INSTANTLY!!!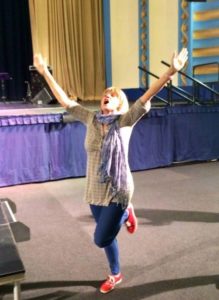 Pam was dramatically healed from Chronic Fatigue Syndrome at Bath City Church in September 2014. Since her healing, Pam has emailed us several times with updates on all of the normal things she is able to do again after being totally incapacitated with weakness and fatigue for 9 months, and her gratitude for what Jesus has done to restore her life. Here is her latest message: 'I was healed of CFS/ME on 10 September 2014 in Bath and gave testimony on 17th. Today 18 days later I am still so grateful to Jesus, and to John and Julie being faithful in the healing ministry God has gifted them with. My family and friends are amazed to see the change in me. For the last 9 months I was not able to do the following, but now I can and feel no weakness at all…..cook meals, stand up and talk to people, go to church services and stand up for the worship songs, play the piano, sing, dance, run for a bus, shop, walk 300 yards without stopping, sit in an upright chair for as long as I want. I will soon be strong enough to go back to nursing and preaching.  Here is the link to the YouTube clip of her miracle:  https://m.youtube.com/watch?v=sfzRr93d
---
DIABETES, BLOOD SUGAR LEVELS, SWELLING, PAIN, BAD BACK AND KNEES, INFECTION – HEALED – TOTAL OVERHAUL IN JESUS' NAME!!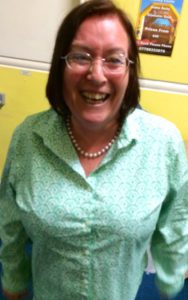 Jilly was recently healed at our meetings in Worthing, UK, in September 2014, from pain in her knees and back caused from lifting and nursing her sick husband, and for the last year she's struggled to walk up stairs, but now it's easy. Ear infection pain also left her, as did pain and stinging discomfort from a urinary tract infection, a headache related to having a low thyroid left and pain and swelling in her tummy from diabetes diminished. Also, she would normally have felt tired in the evening because of her diabetes, but she felt full of energy and said she was 'exuberant with joy' to be pain free after so many years. The day after her healing, she shared that other things were healed, particularly that pain left her feet and all swelling left her ankles – which was caused by diabetes. Her blood sugar levels have also dropped significantly. In the evening after she was first prayed for, she took a reading and the level was 7.5 – near the 'normal' reading of 5, but for her would normally have been 23 for her in the evening, so she didn't need to inject herself with insulin that night, or the next day as her reading was still near normal – a miracle! She is totally amazed by how many painful conditions and symptoms left her last night after prayer in Jesus' name. Watch her effusive testimony in the clip through this link https://www.youtube.com/watch?v=046R3WKa89k&list=UU_02iK9pMeAiT2D2B28xeCQ
---
PARKINSON'S DISEASE HEALED – NO MORE SHAKES OR WEAKNESS – MOBILITY SCOOTER NO LONGER NEEDED!!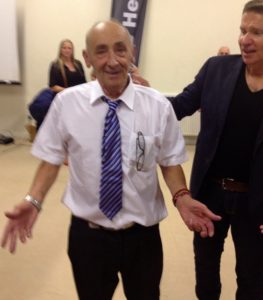 This crippled man who was suffering from Parkinson's Disease was dramatically healed in Leeds in August 2014 and all pain stiffness and shaking disappeared. He was so excited that he began running on the spot and dancing around the church. He had just bought a £3500 mobility scooter to get around on because of increased difficulty walking. We see many healed from Parkinson's Disease. Watch the miracle clip of what happened at this link. http://youtu.be/aNB2-z0z2gk
---
BASHED SKULL SUPERNATURALLY REMOULDED & 8 YEAR MEMORY LOSS HEALED BY JESUS!
8 years ago Kristoper was bashed on the back of the head and had fragments of broken skull stick into his brain and through his scalp. He lost his memory and has suffered a foggy brain since then. John prayed for him in Jesus' name in Worthing UK recently and he felt invisible fingers on the base and sides of his head and it felt as though his head was being remoulded. He fell to the floor under the anointing and his memory returned and he saw a flash of an image of his moth…er who'd passed away when he was young and who he had lost memory of after the assault. After the meeting he went home and looked at some photos which for the past 8 years hadn't triggered any memories for him, but after prayer that morning, they did, and he shed some tears. He also put on a hat that he normally had to twist to one side to sit on his head, but it fitted straight on. He came to the evening meeting to testify and was blown away to have his memory & clear mind restored after so long. What an awesome God! 
---